Who We Are
The Beacon Insurance Company Limited is ranked as the fifth largest insurer in Trinidad and Tobago, straddling the divide between small and large insurance companies.
Our roots go back to 1972 when Mr Aziz Hadeed founded The Caribbean Insurance Company. His son, Gerald Hadeed, rebranded as The Beacon Insurance Company in 1996. The early years of the company were characterised by direct personal relationships between Aziz and his clients, rather than through Brokers.
At the time of the rebrand, Beacon was turning over a respectable TT$35 million in Gross Premiums. In 2016, we  surpassed the TT$351 million benchmark, with Gross Assets exceeding TT$551 million.
After nearly 45 years of cumulative growth, Beacon is now a regional player with Branch Offices and an Agency network that spans Tobago, Barbados, Grenada, St Lucia, St Vincent & The Grenadines, St Kitts & Nevis, and Dominica.
CariCRIS, the regional ratings agency (and a subsidiary of Standard & Poor), has given Beacon a CariA- rating, and identified our strengths as:
Good financial asset credit quality and a well-diversified investment policy
Prudent risk management practises evidenced by healthy capitalisation and solvency ratios
Conservative risk-retention policies
Improved financial performance supported by good geographic and product diversity
Beacon therefore enjoys a reputation as an emerging giant in the regional insurance industry.
What We Do
Our Purpose at Beacon is to "help our customers achieve their goals and to recover from setbacks through the compassionate delivery of our services."
The exceptional skills of our team of 200+ financial, technical, administrative, and relationship-building experts make this a daily reality for customers who depend on our understanding and compassion.
Led by an experienced and qualified management team, we underwrite all major lines of general insurance for both individual and institutional clients, including:
Motor (Private and Commercial)
Property (Private and Commercial)
Group Health and Employee Benefits
Accident and Casualty
Marine Cargo and Hull
Engineering
Bond
Our customers know that we consider it our duty to pay legitimate claims – and pay them quickly – which is why we enjoy above-average customer renewals and genuine word-of-mouth referrals from customers who are happy with their Beacon experience.
We also help our customers spread the cost of their annual premiums through an exclusive arrangement with North West Premium Financing.
Our Financial Strength
Our CariCRIS financial strength rating of CariA- is a world-class testimonial to our level of creditworthiness, and our ability to meet ongoing insurance obligations. Our high financial-asset credit quality, and the good diversification of our investment portfolio, are likely to cushion the impact of unexpected shocks to any single country or security in the seven (7) countries throughout the Caribbean Region in which we operate.
Beacon Insurance Performance Indicators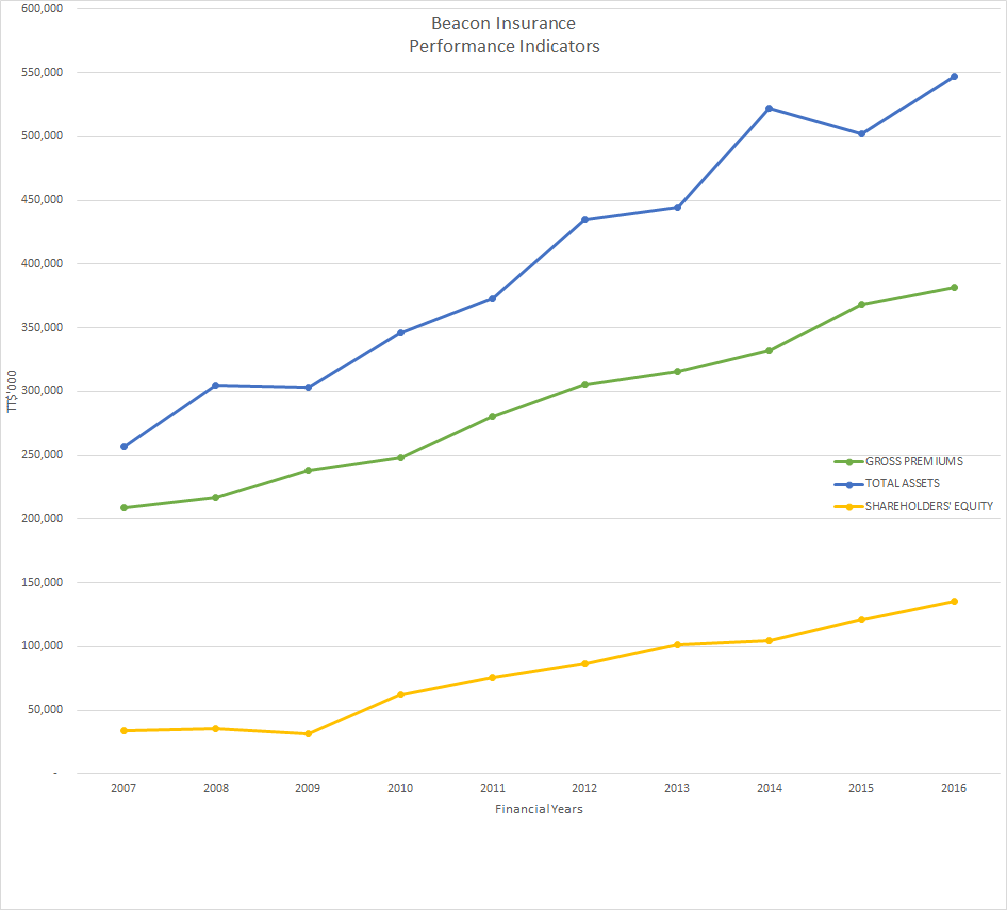 Our conservative risk-retention and solvency ratios in all these territories are above the minimum regional regulatory requirement of 120%.
Beacon's capital strength is also enhanced through its Reinsurance Program.
Our current providers include 2 of the world's largest reinsurers, Hannover Re and Munich Re. Their collective expertise, financial strength and risk management capabilities are invaluable to us, and add a superior level of stability to the Company's operations.
Beacon focuses on achieving growth and profitability through effective risk management, intensified marketing, and customer retention. This improved brand awareness has translated into the overall premium growth we enjoy, particularly in the T&T market.
Total income rose by 15.3% in the financial year ended June 2015, due largely to higher gross premium income and a significant increase in commissions received from reinsurance contracts during the year.
Beacon recorded a strong underwriting profit in FY2015 of TT $31.4 million and achieved a commendable combined ratio of 81.6%. Consequently, Beacon's profit after tax (PAT) in 2015 almost tripled its 2014 outturn. CariCRIS concludes that Beacon's financial performance trajectory will likely continue as it has for the last 3 years.
A Beacon In Society
At the heart of Beacon's Corporate Social Responsibility programmes are various sporting events, charities, and on-going social involvement and education.
Our local and regional community activities includes:
Adventure racing and cycling in Trinidad
Movie Nights in St Lucia, Grenada and Barbados which emulate the old-fashioned Drive-In Cinemas – families come out with their blankets and chairs to watch movies on the big screen
School visits by Kurt Thompson in Barbados – he talks about the importance of education and building the confidence needed to dream big and work towards those dreams
Bad Granny school visits in Trinidad – similar themes to Barbados
Annual Mobile Eye Clinic in St Vincent and The Grenadines – we provide free eye testing and check-ups to the public through doctors who volunteer their services
Looking to the future
Beacon believes in the innovative use of technology. We are now leading players in the digital marketplace as we strive to serve and support our customers in their transition to an online journey.
We have also invested heavily in modernizing our Policy Administration System.  This now interfaces with LANSA, the globally recognized workflow middleware.
The LANSA interface introduced a Digital Work Flow and Document Management System. This allows complete visibility and control of both documents and work-in-progress as they pass through different divisions within the Company.
We're Still A Family
Growth has not taken away the family atmosphere at Beacon. A friendly and caring attitude toward others is in the DNA of the Company culture.
This is why we have families who've been insuring directly with us for over 45 years. Grandparents began with Aziz in the 1970's and the third generation are still insuring with Beacon.
They know first-hand that our business model is built on a promise to pay legitimate claims quickly, so that our valued Customers can recover from setbacks through the compassionate delivery of our services.
If you'd like to know more about Beacon you can always contact our Team directly during office hours.
We've recently introduced UChoose, Private Motor Insurance where you can go online and put together your own policy to suit your budget.
To find out how the lights of many beacons guided Aziz Hadeed, and how Beacon was born, check out Beacon's Story.
We're always here for you…and yours.